Guesthouses
Aratika
Self-contained accommodation, fully equipped with all modern appliances. Large 3 bedroom house nestled in native bush and surrounded by coastal views, with beach access. A holiday paradise for all. A dinghy at the water's edge is available. Kayaks for hire and guided sea kayak tours, onsite. Visit our glowworms and listen for our resident kiwis.
Opito Bay Rd, Kerikeri, Bay of Islands

Located in the heart of Kerikeri,Kericentral has a Swimming Pool, BBQ and outside fire for you. A lot of FREE stuff to use and seasonal work advice.
Tony Egerton
25 Cobham Road, Kerikeri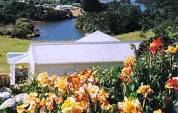 Historic Guest Accommodation
Sharon and Adrian Thomas
28 Pa Rd, Kerikeri, Bay of Islands

Strugglers Ridge Lodge
Strugglers Ridge Lodge surrounded by stunning panoramic water and rural views. Set on a 100 acre lifestyle property. Stroll through the private vineyard.
10 Rangitane Rd, Kerikeri, Bay of Islands

ALL LISTINGS
Guesthouses
Ph: 09 4077 505

Aratika
Opito Bay Rd, Kerikeri, Bay of Islands
Ph: 09 407 4367

Eden Vale Cottage
65 - 67 Access Rd, Kerikeri, Bay of Islands
Ph/Fax: 09 407 8154


23 Tanekaha Lane , Kerikeri , Bay of Islands
John Willetts
Ph: 094073542


25 Cobham Road, Kerikeri
Tony Egerton
Ph/Fax: 09 4077 073


28 Pa Rd, Kerikeri, Bay of Islands
Sharon and Adrian Thomas
Ph: 09 407 8065


660 Takou Bay Rd, Kerikeri
Anna & Ian Sizer Mob: 0275 457 633
Ph: 09 407 3598
Fax: 09 407 8712


28 Landing Road, Kerikeri, Bay of Islands
Inge Bremer
Ph: 09 405 1720
Fax: 09 405 1727


Ian & Anita Herbert
Ph: 09 407 4069

The Waterfall (Te Waiau Rere)
73a Ironbark Rd, Kerikeri, Bay of Islands
Ph: 09 407 1117


Boutique holiday house
24 Access Heights, Kerikeri, Bay of Islands